2017 Nordstrom Annual Sale
The Nordstrom Annual Sale is one of the best sales to load up on fantastic clothes, shoes & wonderful fall/winter items. I normally do some serious damage to my bank account when this sale rolls around. I mean, how am I suppose to have ANY self control when designer items are HALF OFF?! As I sat at my computer, waiting for the sale to go public, I felt anxious...A LOT anxious...I mean, last year I didn't even blink twice when my total was WELL over several paychecks worth & I don't even wear HALF of what I bought!
Ouch. That thought hurt a bit...(Breathe in deeply, hold for 5 seconds, and now exhale...) I had to close my eyes for a minute, chew on some positive thoughts & recap my goals:
This year was going to be different. I'm changing to be a better me.
I'm choosing to not lose myself (or my bank account) to stuff.
I am eliminating emotional shopping and being intentional about smart purchases.
This year, I am committing to finding joy in myself, committing to saving more & spending my money on meaningful experiences rather than things.
So, I allotted a specific amount to spend during the sale, and since I was planning to start my capsule wardrobes this fall, I planned for those specifically. I filled my cart with SEVERAL pieces (around 37 items) and stepped away (wait, whaaaaat?!) When I returned a couple hours later, I looked over my cart and deleted several things, but I did not ADD anything new (self control slowly returning.)
I did this for several days (days?! gasp!) and during that time, some items I had in my cart sold out! This left me a little panicked...but I just kept breathing & reflecting on those goals...I had tell myself to accept it & not take it personal - It was a sign I obviously didn't need it.
After a few days, all that was left in my cart was a beautiful gray coat and 4 pairs of shoes. (FIVE items from THIRTY SEVEN! #winning.) To purchase everything left in my cart would put me over my budget - I had to eliminate more.
But I couldn't decide! I was absolutely IN LOVE with everything in my cart! HOLD UP! --> I was emotional shopping & was about to fudge all of my goals all if I hit 'Check Out' because I felt I LOVED those things. That thought stopped me in my tracks...So, I put on my practical hat & I purchased 3 items at this year's sale.
Let me rephrase that...
I ONLY PURCHASED T-H-R-E-E ITEMS! <---This calls for one of those little celebratory dances! CAN I GET SOME PRAISE HANDS EMOJIS!? Seriously though, y'all. I am proud of myself.
Small victories my friends. Slow and steady...habits take time to break and this is just one step in right direction. Turning over a new leaf is an understatement. This is a lifestyle overhaul.
Here's the goods: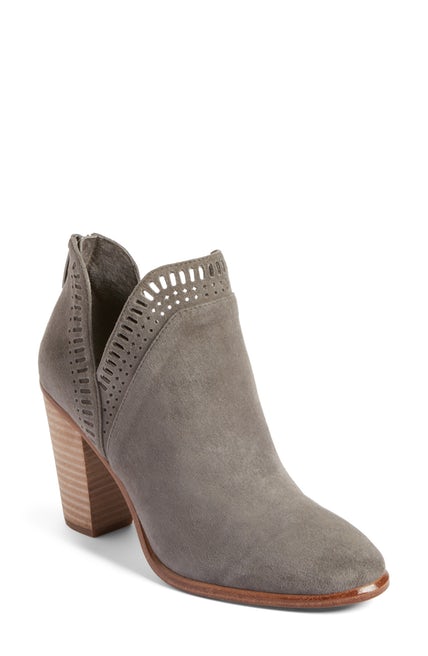 Fileana Split Shaft Bootie - Backordered til NOVEMBER! These are absolutely the hottest booties for fall/winter & will DEF be making an appearance in my winter capsule.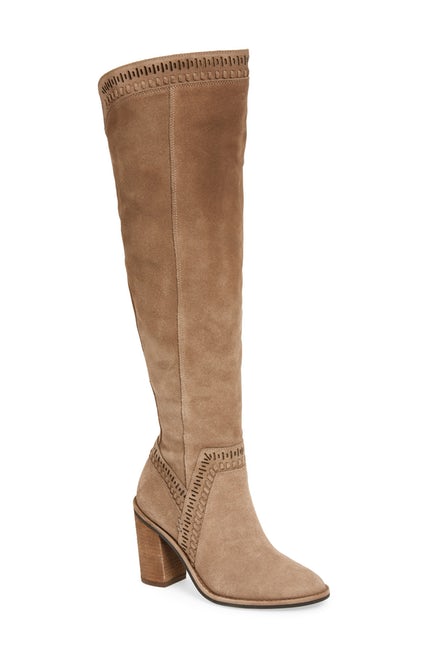 Madolee Over-the-Knee Boot - I mean, come on...who doesn't love a great over the knee boot? These have an elastic backing, so they do well with wider calves.
Karinta Block Heel Bootie - Great for end of summer/early fall transition.
Kristen Woodson